On Friday 2nd June, Prestige Malaysia hosted its inaugural Women of Power event at the W Kuala Lumpur. Celebrating the accomplishments of diverse women leaders, mentors, and game-changers across Malaysia, the 2023 honourees feature 72 inspirational women who are paving the way for other women and driving change in their respective fields.
Sponsored by Cartier, UOB Malaysia, Estée Lauder, W Kuala Lumpur, and Whispering Angel by Moët Hennessy Diageo, 150 guests gathered in the Great Room of the W Kuala Lumpur to enjoy an elegant evening of fine dining and dynamic conversations.
The night featured four panel discussions, each around a topic aiming to inspire and empower women. The first Power Talk, "Cultivating the Mind of an Activist", featured Dato' Dr Hartini Zainudin, the co-founder of Yayasan Chow Kit, and Tehmina Kaoosji, an independent broadcast journalist, communications consultant and gender equity activist, who shared insights on what inspired them to pursue activism. In the "How to Excel as a Female Leader", Ng Wei Wei, CEO of UOB Malaysia, the first female chief executive in UOB Malaysia's over 70-year history, shared her experience and how she wants to use her platform to drive impactful change. The third Power Talk focused on "The Importance of Women in Science", with Eleanor Choong, founder and Chief Operating Officer of Sunway XFarms, and Dr Nur Syafrina Mohd Sharif, Sustainability and Outreach Specialist at Novozymes—the world's leading biotech powerhouse—discussing STEM topics and navigating misogyny in male-dominated spaces.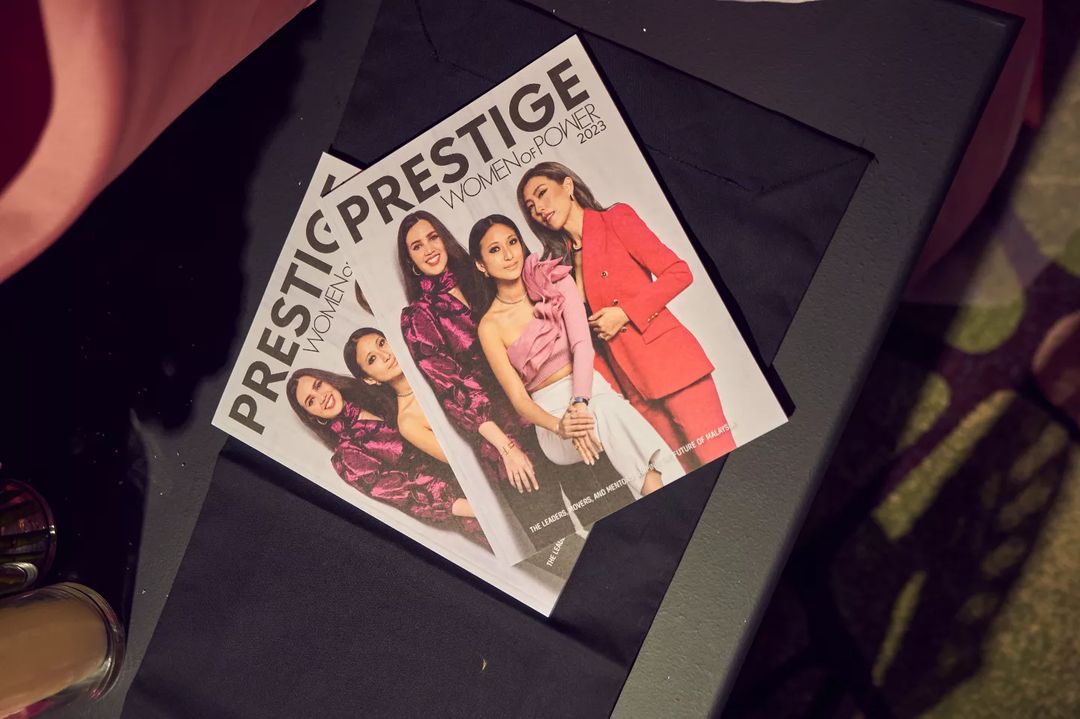 The last highly anticipated Power Talk, "Women Empowering Women", featured Politician Puan Nurul Izzah Anwar; Puan Sri Tiara Jacquelina, Chief Dream Maker of the Enfiniti Creative Universe; Cheryl Joannides, Managing Director of Estee Lauder Companies Malaysia; and activist Gayathri Santhi-McBain discussing their journeys to being a voice for the unheard.
During the talk, Puan Nurul Izzah Anwar, said: "I would say being in the political environment back then was the steepest learning curve that helped me see society. Because you see society, you see different groups of people who are like you, who are unlike you, who are diverse, and then you realise that the more empathy and the more willingness you give to whatever happens to you—whether the good or bad—the more rewarding it will be. So, I feel that sense of being, and that opportunity reminds me of how I can use my voice to give others the opportunity to be heard."
Natasha Kraal, Associate Publisher for BurdaLuxury Kuala Lumpur, said during her opening speech: "You see, empowerment is a two-way thing. Women for Women. Men for Women. Women for Men. Women for Our Children. Women for The World. As you will experience tonight in this interesting programme we've put together, there are so many facets to empowerment. It's never just one thing. We are the leaders, the mentors, the scientists, the cooks, the politicians … the mother, the best friend, the lover… We are every woman."
Initially launched in Hong Kong at the end of 2021, Prestige has expanded its Women of Power community across Asia, with a collective of women in Singapore, Hong Kong, Malaysia, and Thailand. Through this regional initiative, Women of Power aims to foster a community of brilliant individuals that sparks perspective-shifting conversations, game-changing innovations and radical collaborations that seek to empower those within and beyond.
As part of the brand's ambitious goal to truly create change and empower women, rather than creating a new list every year, each year's honourees will remain a permanent part of the initiative, with a new selection of women joining the community in future years and benefiting from the knowledge and expertise of the women who came before them.
"With the launch of Women of Power in 2021, our eventual goal was to create a community of women who could inspire, uplift, and support one another. I'm thrilled to see our vision come to life across the Prestige network; Night with Women of Power was the first event in Malaysia, and this month Hong Kong will be unveiling its first Women of Power summit," said Björn Rettig, CEO of BurdaLuxury. "I'm incredibly proud of what we've achieved so far and hope to keep this momentum going with further initiatives planned across Asia over the coming years."
Visit the Prestige Malaysia website for the full list.
###
About Prestige
Society's luxury authority, Prestige is the lifestyle media of choice for the affluent and influential. As arbiters of style, substance and sophistication, Prestige is the voice of Asia's movers and shakers, and provides the insider perspective into the world of gracious living with an eye on social consciousness. Always inspiring, tasteful and relevant, our content spans local society, business titans, international news, entertainment, fashion, watches and jewellery, travel, culture dining, wealth and high-end gadgets. Reaching out to an international audience, our exclusive online-only digital content includes unabridged versions of print stories, behind-the-scenes video footage, and multimedia content.
About BurdaLuxury
BurdaLuxury is one of Asia's most vibrant and progressive independent media houses. Its portfolio includes a variety of successful regional publishing brands in the lifestyle, luxury and travel markets across Hong Kong, India, Malaysia, Singapore, and Thailand. Print publications include AUGUSTMAN, HELLO! Magazine Thailand, Prestige, PIN Prestige, Architecture + Design and Travel + Leisure India &  South Asia. Digital offerings include Lifestyleasia.com, Augustman.com, PrestigeOnline.com, PinPrestige.com, Architectureplusdesign.in and Travelandleisureasia.com. BurdaLuxury is part of the Hubert Burda Media family, one of the largest media companies in Germany. Operating in 14 countries, Burda employs over 11,000 people and owns 550 media brands.
Media Contact
Netty Venita Prommaporn
Regional Head of Communications & Corporate Development
Venita.p@burdaluxury.com