TV shows like The White Lotus and Succession kicked off a new wave of set-jet travellers looking to relive their favourite characters' most iconic experiences from the screen to real life in the dreamy destinations they were set in. But with The White Lotus set to film its third season in Thailand, how does the trend fare in Asia so far?
Holidaying in the footsteps of your cherished film or TV show is a well-established practice. From the mythical landscapes of New Zealand's Lord of the Rings sets to London's revered King's Cross station, home to Harry Potter's 9 ¾ platform, such destinations have long ignited our imaginations. However, the pandemic-induced seclusion, coupled with endless screen time, left us yearning for travel experiences like never before.
Since the world cautiously reopened its doors, a wave of revenge travel has swept across avid globetrotters. Among these pursuits are the very places that once flickered before their eyes on screens. The prospect of being whisked away on a moped through Sicily's rustic countryside, reminiscent of Tanya's adventures in The White Lotus season two, or strolling the captivating black sand beaches of Reynisfjara, made famous by Game of Thrones, holds undeniable allure.
While such distant dreams beckon, Asian travellers need not journey far to find luxurious accommodations closer to home.
Crazy for Crazy Rich Asians
Cinematic sensation Crazy Rich Asians has ignited the passions of set-jet travellers across Asia since its release in 2018. Predominantly set in Singapore, the film showcases an all-Asian cast immersed in the extravagant world of the ultra-wealthy. Amidst the city's iconic landmarks, the historic Raffles Hotel takes centre stage, notably housing the Presidential Suite where Nick and Rachel, the film's protagonists, reside.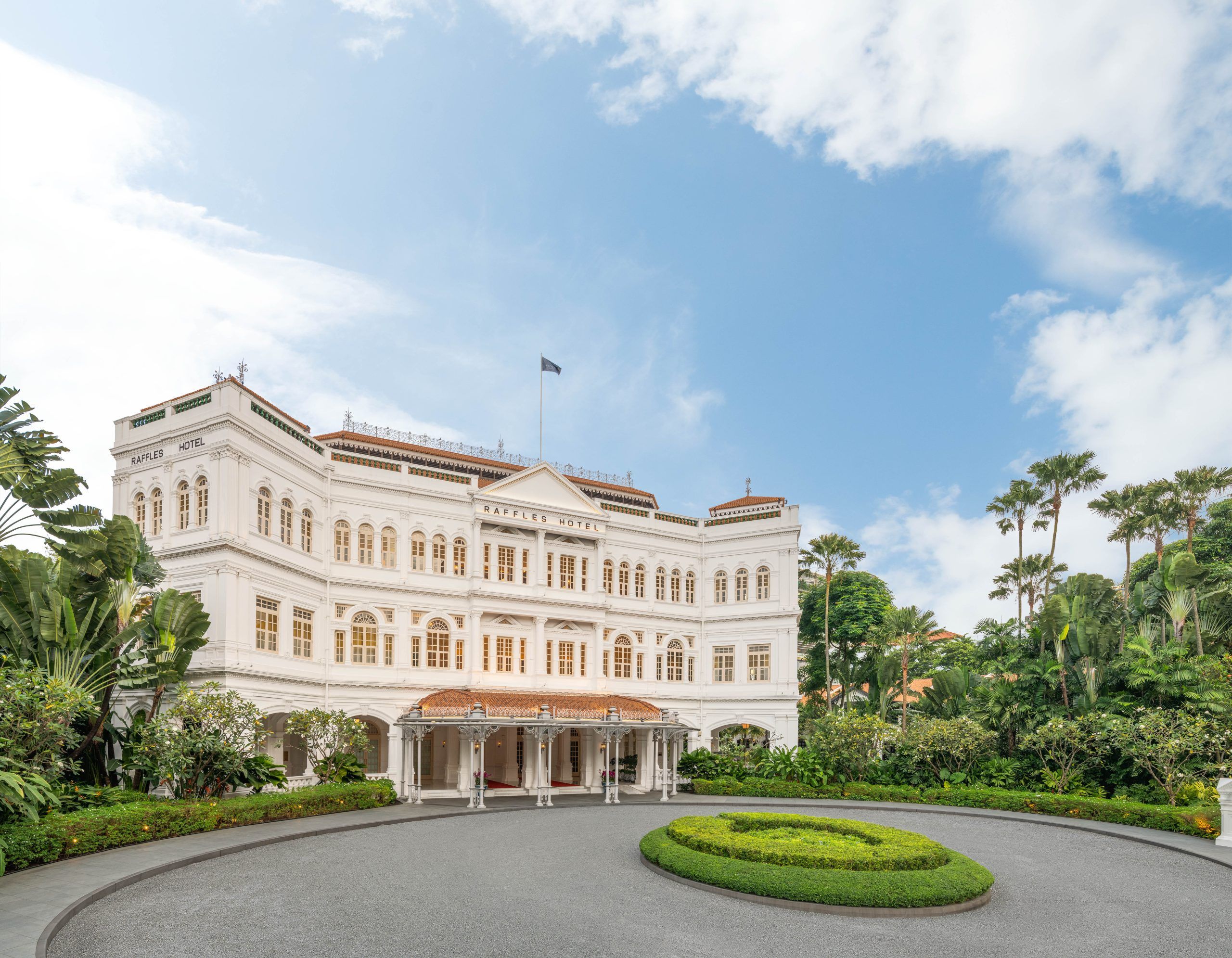 "Movie producers are fascinated by the juxtaposition of the traditional and contemporary elements present within the hotel and continue to favour our hotel for incorporating scenes in films and drama series," says Jesmine Hall, director of marketing communications at the property. It's no wonder then that the hotel, which opened in 1887, has been used as a backdrop for plenty of films and TV shows over the years, including Rogue Trader (1999), Paradise Road (1997), Tanamera (1989), Hawaii Five-O (1968–1980) and Pretty Polly (1967). "Its colonial architecture and grandeur make it an attractive location for filmmakers seeking to capture the essence of a bygone era or recreate historical settings," adds Hall.
Besides Raffles, Crazy Rich Asians also filmed scenes at Marina Bay Sands, another popular attraction in Singapore. These included the rooftop party at the end and the synchrononised swimming scene, shot at the Sands SkyPark. Notably, the craze around the release of Crazy Rich Asians brought an increased demand in fans wanting to recreate their picture-perfect scenes in the same places as the characters.
Hollywood in Asia
Charlotte Harris, the managing director at Charlotte Travel, explains that the set-jet trend has its roots in the allure created by Lawrence of Arabia, which made visiting exotic destinations immensely appealing. Harris highlights a recent resurgence in the popularity of Wes Anderson's distinctive directorial style, characterised by pastel-perfect aesthetics, which has transformed any destination he showcases into an irresistible magnet for travellers. In particular, the film Darjeeling Limited has emerged as a captivating draw for those seeking a unique and enchanting experience. "While it doesn't feature a hotel in particular, it is a sensory celebration of the richness of Rajasthan and inspires many to venture further afield to more interesting destinations which they normally wouldn't consider," says Harris.
Other popular destinations include Japan. In 2003, director Sofia Coppola chose Tokyo as her destination for the Academy Award-winning film Lost in Translation starring Bill Murray and Scarlett Johansson. Coppola had been a loyal guest at Park Hyatt Tokyo before she picked the hotel as the backdrop to parts of the film. "Her experience in Tokyo while staying with us inspired her to write the screenplay and parts of it were actually scripted at the hotel," shares Keiko Hamabe, the hotel's marketing communications assistant manager, "Park Hyatt Tokyo was the catalyst, in a way, for Lost in Translation."
Coppola described the hotel as "a silent floating island" in a chaotic city, and "the only setting ever imagined" for the film. "The depiction of people's emotions, interwoven with contemporary Japanese subcultures, rather than the so-called typical and traditional Japan is a strong appeal of the movie," adds Hamabe. To this day, it's the only film that the hotel has hosted as it's generally unable to accommodate requests for filming and staging of photo shoots due to the privacy of hotel guests and only agreed as they were impressed with the script and ability to minimise disruption to others. "Since the movie was released, a lot of guests came here to experience the scenes of the movie mainly in New York Bar and the pool," shares Hamabe.
Hong Kong, renowned for its bustling urban life and towering skyscrapers has provided a scenic backdrop to some Hollywood blockbusters too. One of the most iconic films shot is the 2014 Transformers: Age of Extinction film, which features Mark Wahlberg and Transformers in the West Kowloon Cultural District, with the International Commerce Centre and The Ritz-Carlton, Hong Kong in the background. The hotel's Ozone bar, the world's tallest bar, was used in 2015's Blackhat starring Chris Hemsworth. With its sky-high panoramic views, luxurious appeal and five-star reputation, The Ritz-Carlton Hong Kong continues to be a sought-after filming location for its distinctness. It's also a go-to for local productions. "The set-jet travel trend has been fuelled by the renewed interest in classic movies and vintage style among Generation Z and millennials, resulting in an increase in guests from this demographic visiting location featured in iconic films directed by Wong Kar-wai and other timeless works in Hong Kong," adds general manager Pierre Perusset.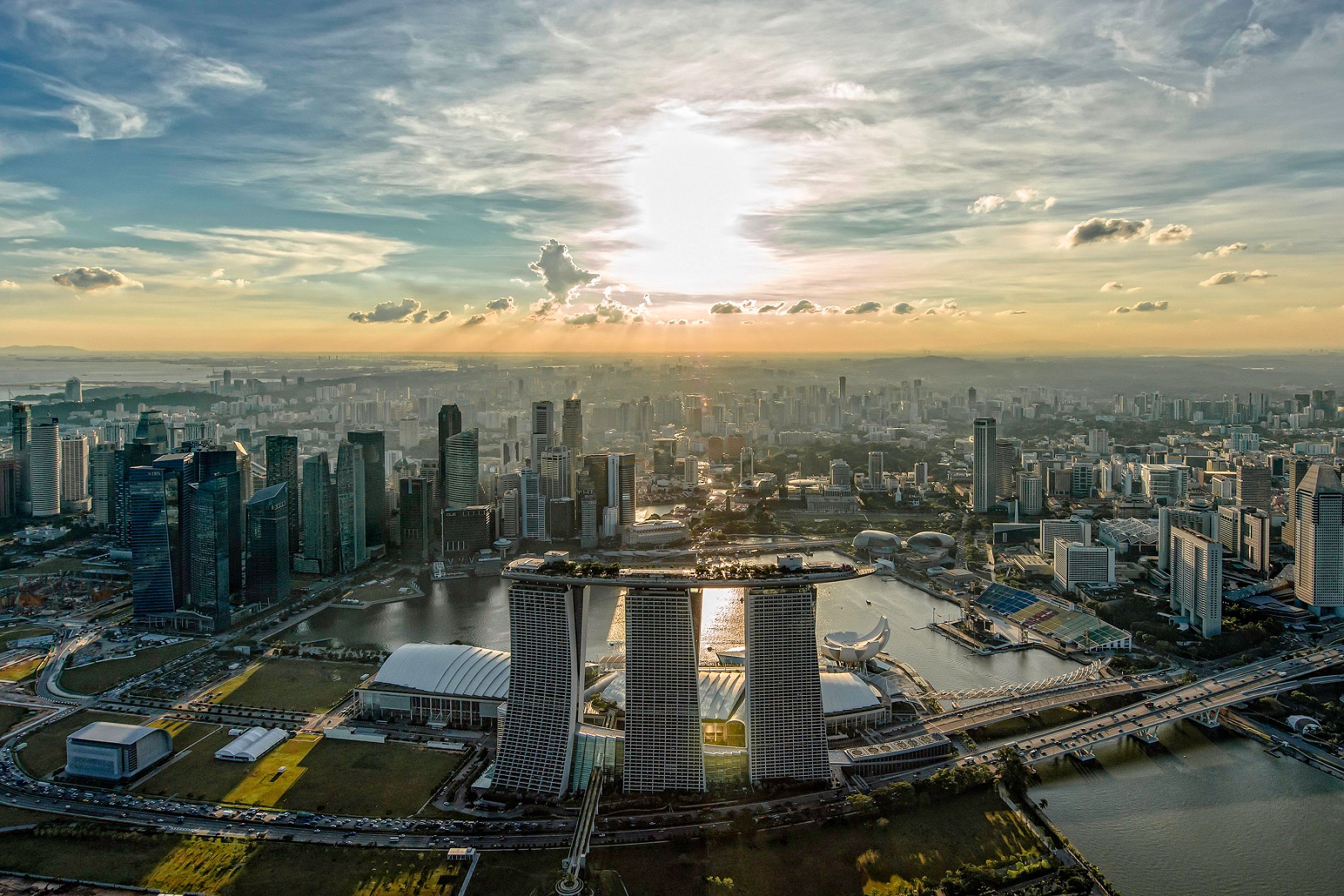 And it extends beyond films and TV shows, with music videos being a popular way to attract guests. Recently, One Republic filmed scenes of the band's official music video for their latest single, "Runaway" at Marina Bay Sands. Chinese singer, Rene Liu Ruoying also filmed her latest music video, "飞行日/Final Call" at the Singapore hotel. More than a decade ago in 2011, Japan's pop group SMAP filmed a commercial for Softbank that drew plenty of Japanese tourists to Marina Bay Sands and Singapore.
Four Seasons' imprint
When it comes to expertise in collaborating with the film industry, Four Seasons stands out as a luxury hotel group with a remarkable track record. Recently, its hotels in Paris and Saint-Jean-Cap-Ferrat appeared in Emily in Paris, and of course, its properties in Maui and Taormina were the setting for The White Lotus. "Showcasing properties on these popular programmes highlight their beautiful backdrops, and the real-life offering becomes further magnified when guests experience the genuine heart and personalised service that is Four Seasons' true hallmark," says Marc Speichert, executive vice president and chief commercial officer at Four Seasons Hotels and Resorts.
The popular set-jetting trend has markedly increased interest in Maui and Taormina, with both properties experiencing a significant jump in website visits and availability checks, ultimately driving more bookings. Its Taormina property is sold out over a number of periods for the upcoming season. "Maui experienced a 425% year-over-year increase in website visits and a 386% increase in availability checks during season one alone, an indicator of the impact that The White Lotus has had on overall property interest and brand enhancement," explains Speichert. Then there's Charlie's Angels (2019) at Istanbul at Sultanahmet, Skyfall at London at Ten Trinity Square, Pretty Woman at Beverly Wilshire, Money Heist in Madrid, and many more.
It also hosted some famous films in Asia, including The Dark Knight filmed at IFC, the location for Four Seasons Hotel Hong Kong. Batman dives from the top of the IFC tower to capture Lau and bring him back to Gotham.
Korean dramas
The colossal impact of K-drama stars on the luxury fashion industry is undeniable, but their influence goes beyond that realm and extends to the travel sector as well. Given the substantial fan bases and wide viewership of many K-dramas, fans aspire to recreate the memorable scenes of their beloved celebrities by visiting the exact locations featured in the shows.
Seoul, in particular, boasts an abundance of Korean drama filming sites, such as Lotte World for Stairway to Heaven, Namsan Tower for Itaewon Class, and the now-closed Hotel Seine for Hotel Del Luna. In this context, the prestigious Four Seasons Seoul has emerged as a popular choice for both filmmakers and K-drama producers, seeking to infuse their productions with the allure of a five-star setting.
"Viewers' desires to visit the places depicted in their favourite movies and dramas, starring beloved actors and actresses, have fueled their passion to travel to Seoul and experience these iconic locations firsthand," says a rep at Four Seasons Seoul. It's been used as a backdrop for movies and dramas including Little Women, The Fabulous, King the Land and more. The hotel receives numerous guests who, upon arrival, quickly recognise it from scenes they cherished in their favourite dramas, often exclaiming things like "This is the exact table where the main character enjoyed their meal!"
"Many directors have been drawn to the hotel due to its appealing atmosphere and interior design, making it a preferred choice for filming." The hotel's location is said to align with Feng Shui principles, with positive energy flowing through the hotel.
Bookings
Hotels are not the only ones who have observed a surge in bookings following the release of specific TV shows and movies. Travel agents also frequently receive requests to design itineraries that allow travellers to relive similar experiences showcased in these media. Charlotte Travel's Harris highlights some of their top picks, including Raffles Singapore (featured in Crazy Rich Asians) and Four Seasons Langkawi (filming location for The Bachelorette).
While Lightfoot Travel has helped clients plan tours across Europe visiting Game of Thrones set locations and Lord of the Rings' New Zealand spots, the popularity of streaming platforms such as Netflix, Amazon Prime, Disney+ during the pandemic boosted a renewed interest in the set-jet trend. Furthermore, reboots of these franchises have sparked nostalgia in long-time fans. One of Lightfoot's travel consultants Chris Storey, based in Asia, finds if he mentions a popular TV show or movie that was shot in a destination when speaking to clients it really works to generate excitement and interest – even if the client has never actually seen the show. "It amazes us how great an influence the media has on clients' travel decisions," says Lucy Jackson Walsh, Lightfoot's COO and co-founder. According to the travel agency's consultants, it predicts that Black Panther and Squid Game will be cited for Korea; Zhangjiajie National Park in China (Avatar); and of course Crazy Rich Asians for any client looking to come to Singapore.
Meanwhile, Marco Kong, managing director at Jetour, has noticed that customers now prefer to embark on smaller group trips to delve deeper into the culture and history of their chosen destination. He adds, "The set-jetting trend allows our clients to step into the world of their favourite films and TV shows, exploring the iconic landmarks, breathtaking landscapes, and hidden gems that make these locations so unforgettable."
Consumer preferences are constantly evolving, but with high expectations. "Audiences are expecting a more diverse and global setting for the content they consume. As such, producers are recognising the need to include more locations from around the world, to reflect the international nature of their characters and events depicted in their narratives," says Daniel Yong, executive director, global media at Marina Bay Sands, "While technology has allowed for CGI to fill in some of these landscapes, audiences would always appreciate real locations as it adds to the cinematic experience."
In the upcoming season three of The White Lotus, Thailand will take the spotlight, establishing a fresh precedent for this esteemed haven of leisurely hospitality. Building upon the show's resounding success of its first two seasons and the fully booked hotel occupancies at its filming locations, Thailand eagerly awaits the arrival of the cast and crew, ready to embrace them in its signature welcoming fashion.