As artificial intelligence rapidly advances and becomes integrated into various aspects of our lives, including creativity and manufacturing, its impact on the luxury fashion sector in Asia raises important questions about opportunities and implications. How has AI influenced this industry, and what are the potential benefits and considerations that arise from its adoption?
In December 2022, Hong Kong's M+ Museum hosted a groundbreaking fashion show called "Fashion X AI". This extraordinary event featured over 80 outfits created by 14 designers, but what made it truly remarkable was the integration of artificial intelligence. With the assistance of AiDA (AI-based Interactive Design Assistant), a cutting-edge software developed by PhD students and academics at AiDLab, the show showcased a fusion of human creativity and futuristic technology. The designs, ranging from avant-garde to otherworldly, captivated the audience and sparked conversations about the future of fashion. With names like Besfxxk, Fengyi Tan, Injury, Kay Kwok, Mountainyam, and The World is Your Oyster among the participating designers, the show highlighted the incredible potential when human designers collaborate with AI to redefine the boundaries of luxury fashion.
"[The show] demonstrates its influential role in the future development of the fashion industry, particularly how human creativity can be complementary with innovations of AI," says Professor Calvin Wong, the CEO and centre director for AiDLab. He is also the Cheng Yik Hung Professor in Fashion at The Hong Kong Polytechnic University. In addition, the AiDA development team supported renowned international luxurious fashion brand Anteprima with AI technology to design the one-off capsule collection.
Dubbed a "futuristic friend for design", AiDA is the world's first designer-led AI design system. With just a few clicks, designers can upload their mood boards, patterns, colour palettes, and sketches onto AiDA, and within a matter of ten seconds, the software generates their original collections.
While AI tools in fashion are nothing new, in the last few months, the rapid developments in advancements in the sector have been remarkable, with the recent launches of Chat GPT and Stable Diffusion garnering global attention. Businesses are harnessing the power of regenerative AI to enhance their operations, maximising efficiency and productivity. McKinsey predicts that generative AI could potentially generate operating profits of up to US$275 billion in the apparel, fashion, and luxury industry, signifying a significant shift. However, the pace of technological development is accelerating rapidly, with everyday advancements making the technologies smarter and more efficient. We are only beginning to uncover the vast potential and capabilities of AI.
The world of luxury fashion has witnessed a remarkable surge in the adoption of AI technology. Many renowned brands have embraced AI tools to elevate the customer experience, employing interactive websites and chatbots to engage with their audience. Dior, a trailblazer in this field, introduced the Dior Insider AI tool back in 2017, delivering personalised messaging services through platforms like Facebook and Whatsapp. This innovative approach aimed to captivate brand enthusiasts by offering an experimental marketing method coupled with e-commerce-enabled services. Burberry, another industry frontrunner, recognised the potential of Facebook chatbots early on and utilised them to provide valuable product information to potential customers. Moreover, these chatbots encouraged individuals to enroll in customer loyalty programmes, offering tailored recommendations based on their purchase history and social media interactions with retail assistants. The power of AI was harnessed by LVMH as well when they joined forces with Google Cloud in 2021, collaboratively developing cloud-based AI solutions to further enhance the customer experience. Notably in April this year, Kering stepped into the AI realm by launching an experimental platform called KNXT. At the heart of this initiative is a chatbot named "Madeline", serving as a revolutionary personal shopper. Users have the opportunity to browse and shop from a wide range of renowned brands within the group, including Gucci, Balenciaga, and Alexander McQueen.
As an increasing number of luxury brands acknowledge the advantages of integrating AI into their workflow, investments in AI technology continue to rise, shaping the future of the industry.
Opportunities
The transformative impact of AI on the luxury industry's future remains uncertain, yet the potential it holds appears boundless. For fashion designers, AI can function as a valuable assistant, facilitating their inspiration and expediting the overall design process. An example of this is Jae Lim, the visionary designer behind Besfxxk in Asia, who leverages the capabilities of AiDLab to support his design journey. By deconstructing and reconstructing fashion classics like the trench coat, he crafted captivating pieces that graced the Concept Korea Spring/Summer 2023 fashion show during New York Fashion Week in September 2022. AI tools also offer significant advantages for fashion inspection too. At the recent ITMA exhibition, a prominent international showcase of textile and garment innovations, over 10 manufacturers of textile machinery unveiled AI-based fabric inspection systems. These cutting-edge solutions enable precise and efficient assessment of fabrics, revolutionising quality control processes in the industry.
"AI can also be trained as a styling advisor for outfit, mix and match recommendation and outfit evaluation which is related to clothing aesthetic learning or modelling fashion compatibility," says Wong, "Customers always like to listen to the styling advisors why and how to dress up well."
Numerous brands are actively adopting AI-powered tools to enhance their offerings. Neiman Marcus, for instance, utilises AI-driven chatbots to provide personalised product recommendations, elevating the shopping experience for customers. Similarly, Burberry has introduced a virtual try-on feature powered by AI and 3D modelling technology, enabling customers to visualise how specific garments would look on them. Additionally, Burberry employs AI to detect counterfeit products, ensuring authenticity and protecting the brand's integrity. Chanel is making significant investments in a beauty try-on tool, a pioneering innovation that suggests the most suitable shade for individual customers. Embracing the fusion of fashion and technology, Hong Kong designer Vivienne Tam recently launched a fashion show inspired by NFTs, adding a unique digital dimension to her creations. On the other hand, ZMO.ai, a China-based startup, offers a machine-learning framework that enables users to create customisable digital mannequins, allowing fashion retailers to showcase their clothing on AI-generated human bodies tailored to different skin tones, heights, poses, and body shapes. These advancements demonstrate the growing influence of AI in the fashion industry, revolutionising various aspects of the customer experience.
Exciting advancements in fashion also include 3D printing, innovative materials, augmented reality, and eco-friendly solutions, revolutionising the way garments are created, pushing the boundaries of aesthetics and functionality, enhancing the shopping experience, and promoting sustainability.
Matthew Drinkwater, behind the Fashion Innovation Agency which uses emerging technology to disrupt existing practices in fashion and retail, expresses the opportunities in the industry. "AI is going to make retail so much more personal by delivering experiences, driven by data, that are far more relevant, targeted and rewarding," he shares.
Recent projects at FIA include a hyper-realistic "meta catwalk", an immersive VR fashion show and JW Anderson augmented reality showroom. "I would say our defining mission is to be a guiding light to the industry, to show what is coming and how it is going to affect fashion and retail in the future," says Drinkwater, "We are helping accelerate the pace of change and send out a new generation of creatives and executives who have a much better grasp of what these technologies can do."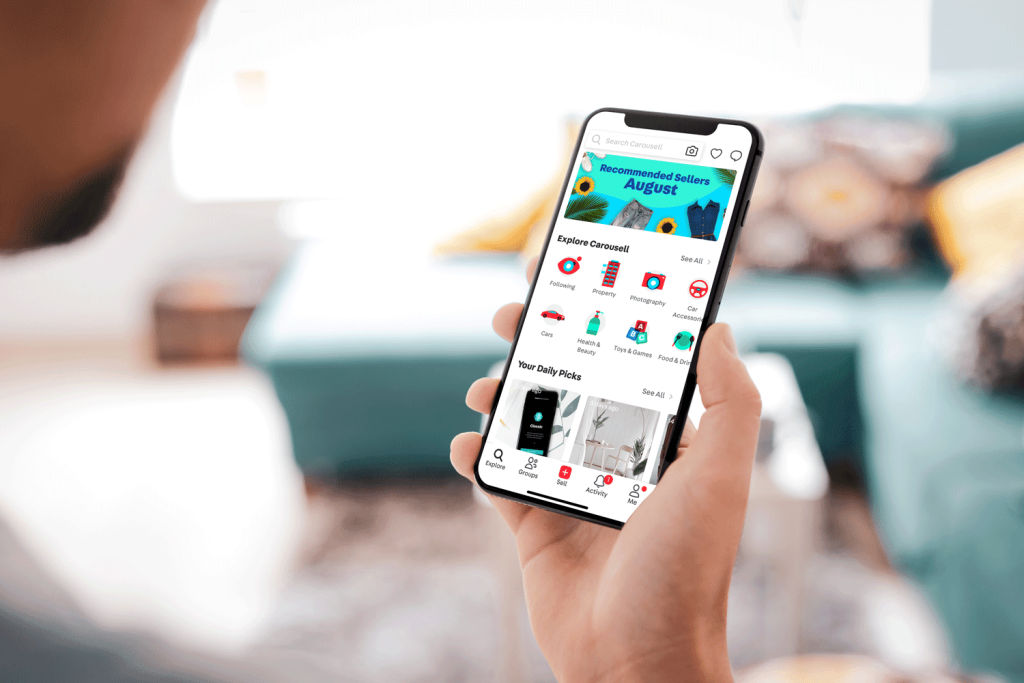 Carousell, a Singapore-based platform where users can resell furniture, fashion, handbags and more, is shifting into the luxury sector more and integrating AI to better categorise its luxury listings. "The new wave of generative AI currently in vogue provides new opportunities across a range of applications in the industry," says Gijs Verheijke, regional head of luxury at Carousell, "[These] generative AI models can be applied to make any creation process more efficient and more fun."
Challenges and ethical implications
As the world delves deeper into the realms of artificial intelligence, the implications and concerns surrounding its integration into various industries become increasingly apparent.
While AI adoption in workforces brings about remarkable advancements, it also raises questions about its impact on job security. As with any transformative technology, fears loom regarding the potential displacement of human workers by AI-driven automation. Although the exact magnitude of this effect remains uncertain, the evolving landscape of labor necessitates a critical examination of how AI might reshape job markets.
One area of concern lies in creativity. As AI tools gain prominence, there is a growing unease about the potential stifling of human ingenuity and innovation. The idea that tools could supplant human imagination in generating ideas raises profound philosophical debates. Will reliance on AI-generated concepts lead to a loss of the human touch, that ineffable essence that sparks groundbreaking ideas and fosters true artistic expression? The interplay between man and machine gives rise to a philosophical conundrum, questioning the essence of creativity and the role of human agency in its cultivation.
Amidst these uncertainties, the cost of AI development remains another significant consideration. Early adopters bear the burden of substantial financial investments, as cutting-edge technologies demand extensive research, development, and implementation. However, while the initial costs may be formidable, the potential rewards and opportunities for those willing to venture into uncharted territory are nothing short of transformative.
For those who hesitate on the sidelines, the risk of missing out on the proverbial gold rush is real, as the landscape rapidly evolves and the early adopters reap the benefits of their forward-thinking investments. The widespread adoption of artificial intelligence raises safety concerns related to data privacy, security, and the potential for AI systems to become excessively intelligent. Safeguarding personal information and maintaining control over AI's decision-making are crucial considerations in ensuring responsible and secure implementation.
Another point to be made is that, given the drawbacks of fast fashion, there is a concern that its negative effects could be exacerbated, leading to an accelerated production process that further contributes to the problems associated with fast fashion.
As AI continues its inexorable march into the future, it is crucial to weigh the potential drawbacks against the undeniable progress it offers. The impact on jobs, the delicate balance between human creativity and AI-driven assistance, and the costs of embracing these technological advancements all contribute to a narrative of cautious optimism.
Future of AI in luxury fashion
Although concepts like the metaverse, NFTs, and digital currencies are yet to take off in the mainstream market, there is a growing belief that artificial intelligence, particularly regenerative AI, will significantly shape our future.
"AI will permeate the entire value chain, from fashion design, to production, to distribution and marketing," says Verheijke, adding "It will save lots of time, but generally be slightly less spectacular or noticeable than the current hype would suggest."
In Asia, it seems to be building up quickly. "AI in Asia could develop in a way that shows a pathway for the rest of the world,' says Rama Gheerawo Director of the Helen Hamlyn Centre for Design, "Technology attitudes, take up, and usage is different from other global regions, and Asia could possibly be a receptive market where primary ideas are developed, even accelerated."
"We are genuinely heading to a new era for the fashion industry, where every element of creation, communication and consumption will be disrupted. I think the most important thing is that businesses prepare themselves, learn, experiment and recruit talent that will help embed and implement the changes that are coming," says Drinkwater.
Given the deep-rooted connection between legacy brands such as Coco Chanel and Yves Saint Laurent and the intrinsic human element, it remains challenging to envision a future where AI can fully supplant the intricate and nuanced fashion design process. "My personal belief is that within luxury, human-created designs will persist while AI takes over most of the design function in the mainstream market," says Verheijke.
AI has firmly established its presence and is poised to transform the fashion landscape, influencing our perception and consumption of fashion while redefining the strategies employed by luxury brands in creating and promoting their products. As we navigate through this exciting period of industry evolution, we embrace the potential for remarkable advancements and unprecedented possibilities.