The solid sneaker culture growth across South Asia is experiencing a zippy, zany growth in India
Call it a multi-billion dollar industry wrapped up in shoeboxes. From classic, low top, colorful to vintage and cool, sneaker trends are whipping up spend with a tearing frenzy, with brands localising their approach within regions to serve different communities.
Sneaking In
Last year saw a lucrative growth in the Indian luxury industry, according to a recent Bain & Company report. The luxury market in India, valued at a cool USD 8.5 billion, is set to expand 3.5 times, by 2030. With athleisure making it to the marquee, the growth of sneaker freakers has given a plum push to the sneaker sales. Sneaker Con Singapore held in April this year marked the convention's first-ever appearance in Southeast Asia. The staggering response brings in the next regional edition in Osaka in July. The growth of Korean and Chinese brands, the popularity of the sneaker culture in countries including Philippines, Singapore, Thailand, and the seriously growing market in India has pitchforked the soles to the heart of booming commercials.
India's 1.3 billion hearts comes with an average age of 29. The country, though one of the most populous, also has one of the youngest populations globally. "The future is the youth, and the youth love nice shoes. It is as simple as that," says Abhishek Gandhi, Director and Creative Head, All You Can Street (AYCS) – a progressive platform that curates immersive experiences and live events for sneakerheads, with a focus on home-grown labels. "There has been a shift in fashion in keeping with the global trend of buying and collecting sneakers - we are able to create our own unique subculture, giving buyers access to different brands and styles," he says, slipping into his New Balance x Salehe Bembury 574 yurt sneakers.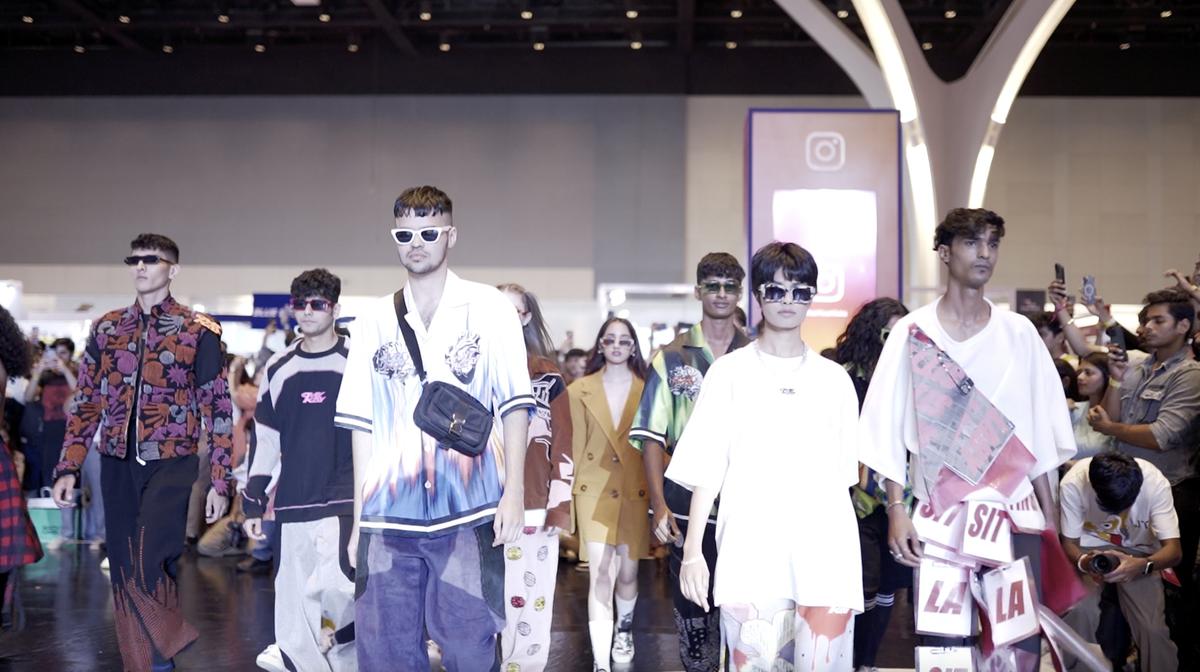 Curated platforms are catching up in popularity, and not only in big cities. Hyderabad and Guwahati played host to the sneaker festival, SneakinOut, drawing in sneakerheads in droves. Say Sangeet and Nisha Paryani of Superkicks, one of the largest sneaker retailers (who has set up retail format in the Guwahati in the far east) in the country, "When we started out in 2018, it was "early-adopter" market. Sneakers are sold in minutes now, but used to be on the shelf for days earlier. The pandemic brought in online purchasing, changing the dynamics completely. Grow the community, the revenue will follow – is our approach." Superkicks has clocked 900% growth till 2022, setting up stores pan India in New Delhi, Bangalore, and Hyderabad. "We are targeting a minimum 70% increase in revenue from our stores and e-commerce combined, compared to last year," he says. The metros figure in the top 5 cities each month in spending power with satellite cities picking up pace, and Nike, Adidas, Converse, Vans meriting as favourites.
India Alert
All You Can Street, conceived in 2021 by Abhishek Gandhi and Yash Shetty, brings in its next mega edition in June in Mumbai, with 50+ homegrown brands, 5 experiential zones, and 10+ artist lineups for an immersive platform. "We want to create a similar impact with our festival on a global level, but don't necessarily see AYCS in a 'Sneaker Con' format. AYCS is an immersive cultural festival ranging across fashion, music, and art. Our editions in Delhi and Mumbai have found takers in a large floating population - students from different parts of the country, and working professionals who have temporarily or permanently moved to the city," explains Abhishek, as the platform draws in support from influencers and industry giants in Dev Raiyani, Taneesha Mirwani, Raftaar, Sakshi Shivdasani, and Chaitanya "Che" Dixit. The last edition of the 'expo' saw live car painting, sneaker pits, runway shows, live music, tattoo zones and more.
The Indian sneaker market – the fastest growing - will witness a volume growth of about 20.5 per cent in 2023. The volume is expected to be around 88.4 million pairs by 2027, according to a Statista report. Add to that a Cowen report that estimates by 2030, a global valuation of $30 billion in the sneaker resale segment.
Says Param Minhas, Co founder and CEO SoleSearch, "The Indian sneaker market is a substantial segment within the overall luxury fashion industry. Market reports reveal the Indian footwear market was valued at approximately $10 billion in 2020, with a projected CAGR of 8% from 2021 to 2026. Although the exact size of the premium sneaker market within this segment is not readily available, it is a growing market niche. According to industry reports, revenue in the sneakers segment amounts to US $ 3.01 billion in 2023. The market is expected to grow annually by 5.88 percent CAGR during 2023-2027. This brings in the sale of premium sneakers, driven by increased brand consciousness, and the influence of global sneaker culture."
Celebrities including Rannvijay Singh, Harshavardhan Kapoor, Ranveer Singh, Anand Ahuja, Shahid Kapoor, Badshah, Diljit Dosanjh have been spotlighting their treasured picks in hundreds in their personal shoe closets. With the social media pour, travel savvy globe trotters and aspirational spend clambering up, the market is on the hefty build up.

Prabal Baghla, Co-founder SoleSearch, said "Brands that find fabulous resonance on home turf include Nike (with its innovative designs), Adidas (tech progressive inclusions, and partnership with Yeezy), Jordan (a subsidiary of Nike, with a rich association with basketball legend Michael Jordan and the iconic Air Jordan line), New Balance (following a global notch up). In recent years, there has been a growing interest in Korean streetwear brands, with their unique aesthetics and fashion-forward designs. Brands like Fila, K-Swiss, and Lining have gained popularity among Indian consumers who appreciate their distinct styles. Similarly, Chinese brands like Anta, Li-Ning, and Peak have also made inroads into the Indian market."
Abhishek Bardia - Head Of Marketing - SoleSearch, adds "With limited edition releases, the market has grown exponentially, due to exclusive collaborations between sneaker brands, designers, and celebrities. Add to that the expansion of the sneaker resale market further boosting copping. Data from StockX, a popular sneaker and streetwear resale platform, shows significant transaction volumes and increasing resale prices for coveted sneakers. This thriving secondary market reflects the demand for rare and exclusive sneaker releases."
Anchit Kapil, CEO and Co-Founder, of Crepdog Crew, has been busy setting up experiential stores in Mumbai and Delhi, and next Bangalore, in India. "The resale market is definitely 8 times bigger than the primary sneaker market," he says. "One pair exchanges 5 hands whereas in the retail market, if a shoe is for Rs 10,000 it sells for Rs 10,00 and the process ends at one transaction. From when we started Crepdog Crew in 2020, we have grown at a rate of 350 per cent. Last year, our turnover was Rs 51 crores, and this year, we are on track for Rs 100 crore. As far as the pie share is considered, Crepdog Crew holds 60 per cent of the organised sneaker resale market in the country. When it comes to sneaker reselling, no country in the region has the same potential as India. The local South Asian brands are not worth our time and attention, and neither is the Indian sneakerhead interested."
CDC set up Asia's largest sneaker wall at its mint new Mumbai store recently, featuring the entire collection of the iconic Off White X Nike Dunk Low Lot 50 aka 'The 50', the only retail point in the country to have all 50 under one roof. It is a research driven approach for the sneaker resale major as Anchit is constantly studying trends to assume the lion's share of the market.
"I think the interest in copping sneakers has seen a 2500 per cent increase over the past few years, with the fast-movers in the space including the big three – Air Jordan, Yeezy and Nike SB Dunks. The sneaker segment is clearly poised for a 300 per cent year on year growth. As far as streetwear is concerned, we are staunch believers in Indian talent and believe that Indian streetwear designs will make an impact globally." What about the demand for personalisation, and vintage soles? "Honestly, there is little to no love for vintage sneakers in India. The idea of putting down USD 50,000 for a pair of already worn shoes – no matter what their provenance – isn't something that excites Indians. The sneaker culture in India is too nascent for people to splurge cash on vintage," he says. Getting ready to secure Nike Air Yeezy 2 Pure Platinum, to take up his sneaker pair count upto 119. "That's one beautiful shoe."