Fashion is often seen as a reflection of cultural trends and societal shifts, and in recent years, traditional Asian garments have been making a comeback on the global fashion stage. Among these, the Chinese cheongsam/qipao has been at the forefront of the revival, with designers like Shanghai Tang and Vivienne Tam bringing modern adaptations to this iconic garment. But it's not just qipaos anymore, as traditional Korean hanboks, Thai chut tais, Japanese kimonos and Indian saris are also embracing these shifts.
Maggie Cheung's alluring and form-fitting cheongsam scenes in Wong Kar-Wai's In the Mood For Love are unequivocally among the most celebrated and emblematic fashion moments in the annals of Hong Kong cinema. The film serves as a poignant and winning tribute to the traditional Chinese garment, which remains indelibly etched in the collective memory of Hong Kong culture to this day.
The popularity of the cheongsam in contemporary fashion has also been attributed to its ability to adapt to changing times while still retaining its traditional roots. This balance between traditional elements and modern aesthetics is something that many designers, including Shanghai Tang and Vivienne Tam, strive for in their designs today.
However, the rise of traditional Asian garments in fashion is not limited to the cheongsam/qipao alone, but also extends to other regional garments like the Korean hanbok, Thai chut thais, Indian saris, Japanese kimonos, and many more.
So how have traditional Asian garments been adapted in modern fashion and what are the wider cultural implications of this fashion trend?
Steeped in history
The rich and colourful history of traditional Asian garments spans centuries, with each region boasting a unique and distinctive style that reflects the nuances of their respective cultures. From the elegant cheongsam in China, the ornate hanbok in Korea, the refined kimono in Japan, to the resplendent sari in India, the sartorial wealth of Asia is as varied and vibrant as the lands that it encompasses.
In a world that craves authenticity and diversity, designers have rediscovered the charm and elegance of these garments, bringing them back into the mainstream with modern adaptations and fresh designs. As the fashion industry continues to evolve and embrace diversity, it's heartening to see traditional Asian garments receive the recognition they deserve.
According to a report by McKinsey in 2017, traditional clothing made up an estimated 70% of women's apparel sales in India. Research from China-based firm iiMedia indicates that the number of hanfu enthusiasts has swelled from 3.56 million in 2019 to over six million in 2020, while social media platforms Weibo and Douyin have seen billions of views for hanfu-related content and more than 20 million people purchased the traditional garb on Taobao in 2021.
The modern qipao
The qipao, also known as the cheongsam, is a quintessentially Chinese garment that has captured the imaginations of fashion designers and enthusiasts alike. For Vivienne Tam, a Hong Kong-born designer who has made a name for herself on the international fashion scene, incorporating traditional Chinese elements into her designs has been a lifelong passion.
"I grew up in Hong Kong – the melting pot of East and West, an intersection of tradition and modernity. So this is naturally who I am, I am the embodiment of 'East meets West culture'," Tam explains. "The designs just come from within, created by a passion in Chinese culture and art, and driven by a mission to transform these interesting Chinese details into new shapes that every generation in the world could appreciate."
Tam's ability to balance tradition with modernity has earned her a loyal following, with her designs gracing the runways of fashion capitals around the world. "The key to adapt and stay ahead is to keep up with what's happening around us in the world, in different fields, not just the fashion world," Tam shares. "I love to collaborate with partners in different industries, especially the technology brands, they often inspire me with new ways of doing my shows and designing my garments, they could help make my experimental ideas come true." Tam's latest collections have seen her collaborate with advanced technology companies, incorporating NFTs and other virtual elements into her designs. "While I bring these virtual stars to New York Fashion Week IRL, at the same time they bring my brand and my show onto the metaverse," Tam enthuses. "By collaborating with them I could bring my physical customers to the virtual world and the crypto generation to understand my brand, shaping a [circular] economy of fashion."
Douglas Young, co-founder of Goods of Desire, also sees value in traditional Asian design elements. He explains, "I look at the qualities of traditional Asian design which are often overlooked in today's fashion such as the unstructured nature of Chinese garments. We have very few seams, and no padding and I love how Chinese garments are completely comfortable." He says that Chinese garments are destructured and different from Western garments as there are more possibilities in how they can be worn - being gender-fluid as well. "These are the elements that I like about Chinese clothing that are still appropriate today and I like to revive them because it's so little known in the West," he says.
Young adds, "So I wouldn't say that Chinese garments have been hugely popular in the West for all sorts of cultural reasons. One of the reasons is because there have been so few practitioners of modernising Chinese clothing. We are not so worried about this because we are a boutique outfit. We don't see it as mainstream. In fact, I don't think mainstream is interesting to us so we're quite happy as a niche."
One of the challenges that designers might face is the recent phenomenon of cultural appropriation. Young states, "The recent phenomenon of cultural appropriation where people are afraid to wear Asian or Chinese clothing is a deterrence to us. I don't see why people cannot wear clothing of Chinese tradition. To us it's flattering."
Despite the challenges, designers like Tam and Young continue to push the boundaries of traditional Asian design in modern fashion. Goods of Desire has been doing it for 25 years, and Young notes they now have their own market segment. He acknowledges that the challenge for Hong Kong-based designers is the perception that the West is the only source of fashion inspiration.
Sau Lee's founder and creative director Cheryl Leung also shares her passion for incorporating traditional Chinese elements into her designs. Her collections feature modern twists on traditional Chinese styles, such as using contemporary fabrics and modern silhouettes while still incorporating classic elements like the mandarin collar and qipao-inspired designs. "Tasteful sensuality perfectly balanced in its sophisticated elegance dressing a woman in an ultra-flattering yet comfortable fit that can only be achieved having an expert understanding of her body," says Lee, calling the craft "true luxury".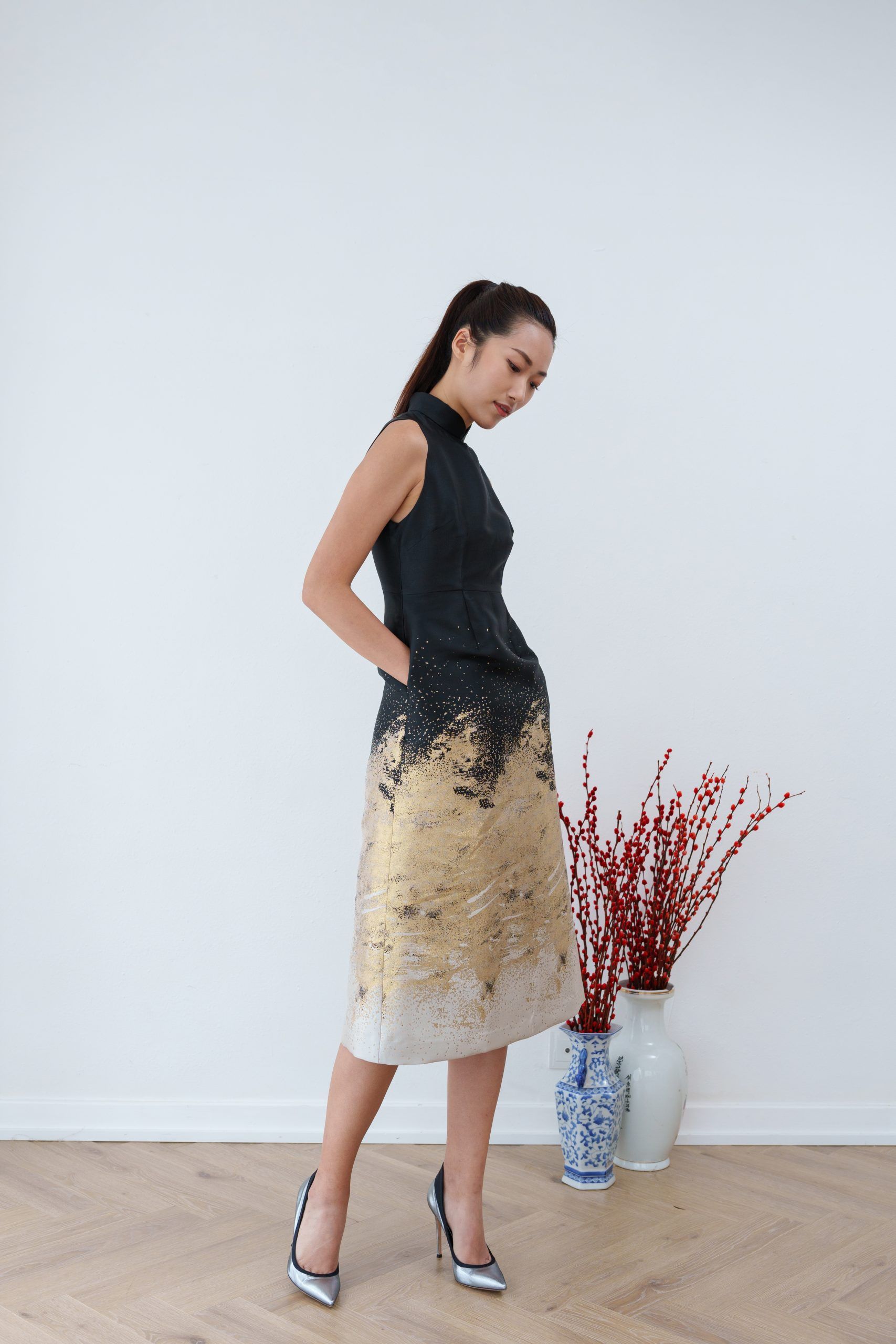 Meanwhile, Julie Liu, the founder of Qipology, started her business after struggling to find a modern qipao to wear to a friend's Shanghai-themed wedding. Liu shares, "I always associated qipaos with older ladies and thought they are too traditional." This changed after she wore her first qipao, and felt empowered, beautiful and elegant.
Both Leung and Liu aim to make traditional Chinese garments more accessible and wearable for modern women. Qipology's most popular items are the Tang jackets, which are a blend of East meets West and can be dressed up or down and the bridal qipaos, which provide modern and versatile options for brides looking to represent their heritage on their special day. When asked about the future of traditional Chinese garments in the fashion industry, Liu states, "Younger generations are now much more open to wearing qipaos or Chinese Oriental clothing which is quite interesting as this was never the case when I was younger."
Leung also believes that the fashion industry will continue to incorporate Chinese elements into their collections, saying, "We're seeing a resurgence of pride in Asia to embrace heritage, and more importantly, seeing that translate into new creativity in fashion for all."
"The reality is Chinese culture is too big and important to not reference. I think it's great as there's more exposure for the culture globally," according to Liu.
Asian regional garments
Other traditional Asian garments, such as the Korean hanbok, Thai chut thais, Indian saris and Japanese kimonos, have also been adapted for modern fashion and can be seen in both streetwear and haute couture. These garments have a rich history and cultural significance that designers are exploring and reimagining in exciting new ways.
Korean designer Leesle Hwang shared her inspiration for modernising the hanbok: "Growing up, I was fascinated by hanbok after watching the famous Korean cartoon 'The Palace'. The hanboks in 'The Palace' were short skirts and dress-like skirts." However, her modern hanbok was met with criticism, with people saying it wasn't traditional enough. Hwang believes that "modern hanbok serves to connect hanbok to everyday life" and has continued to create variations of the garment for different occasions and moods.
According to Tchai Kim's Kim Young-jin, the fashion industry is constantly changing, and staying competitive requires adaptation. His brand has managed to stay relevant by revolutionising traditional Korean garments, such as creating the Cheollik dress (traditional men's hanbok), now wearable by women. Kim believes that "Tradition is important to continue," through the study of museum costumes.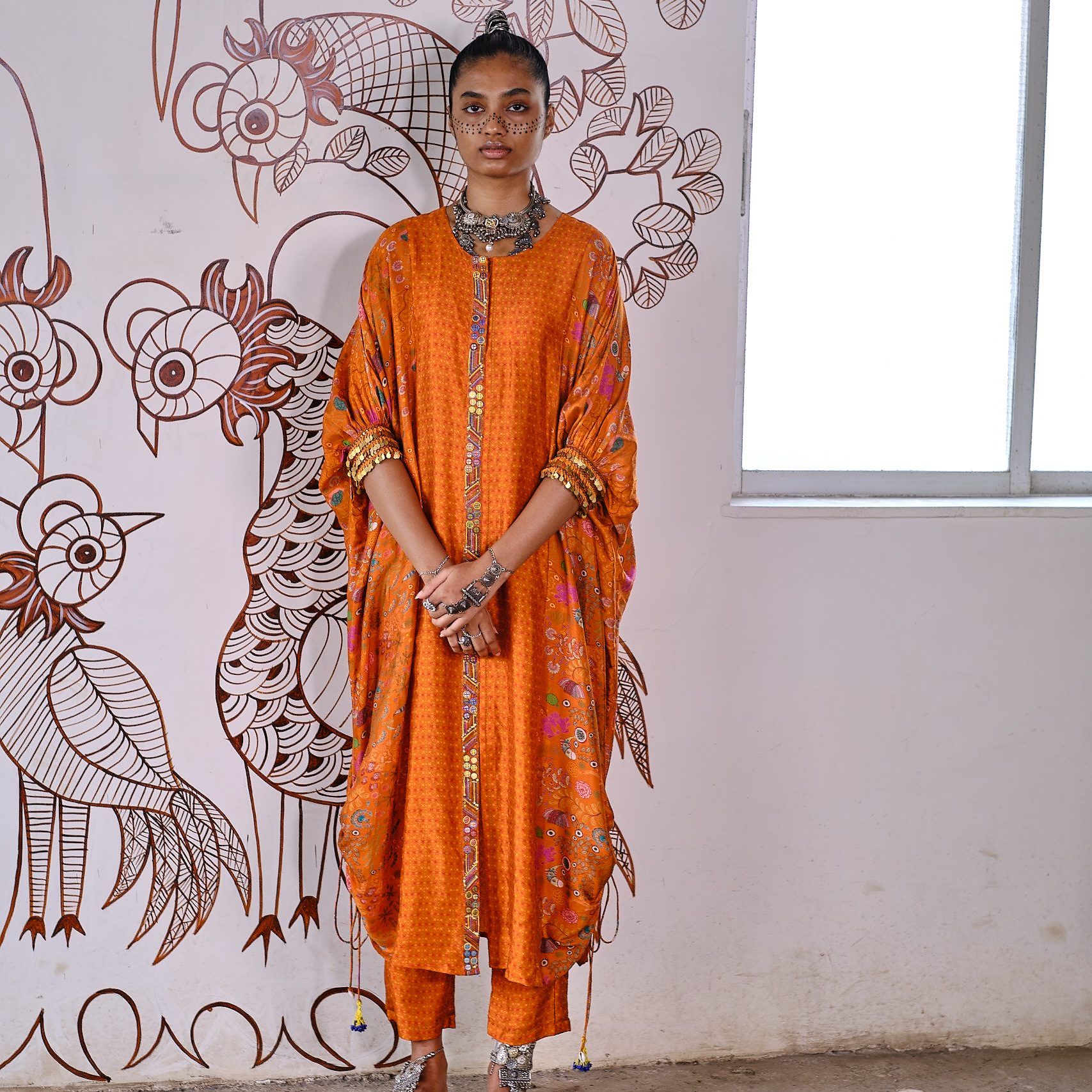 As the fashion industry continues to embrace traditional designs, Indian garments are enjoying a surge in popularity. Sonam Luthria, a designer known for her incorporation of traditional Indian elements in her modern designs, notes that people are experimenting more with their clothing and trying to express their individual style. "We maintain our love for ethnic Indian embroideries and colours and incorporate this with easy and fuss-free silhouettes to cater to our clients," she says. However, staying competitive in the constantly changing industry has been a challenge, especially with the current emphasis on price-consciousness.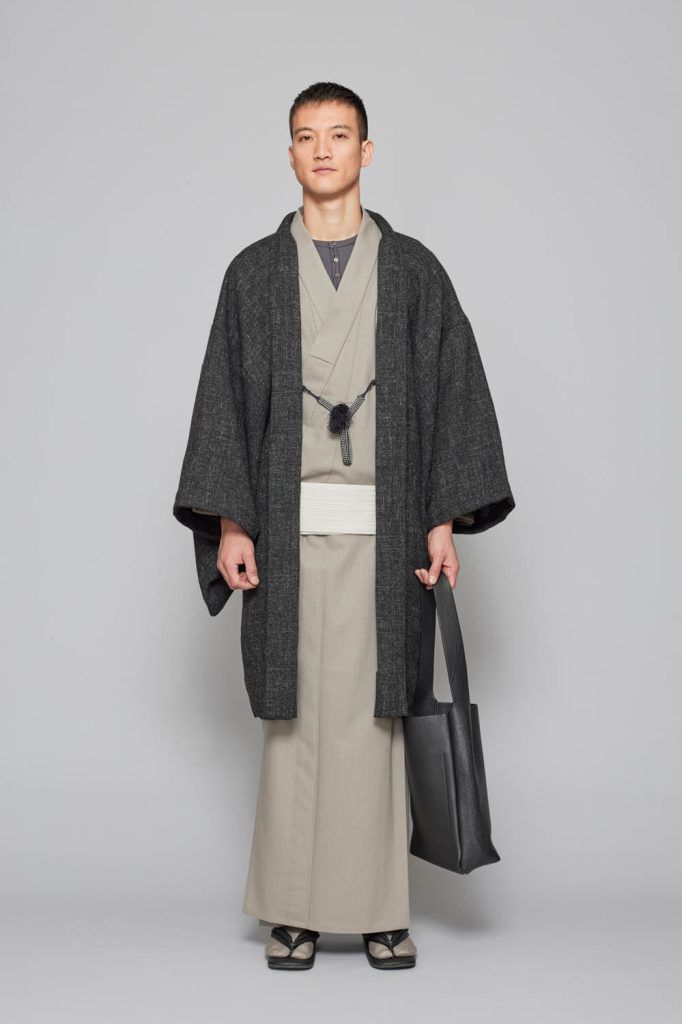 Moving on to the world of Japanese fashion, the kimono has been a symbol of Japan's traditional culture for centuries. Y&SONS' Go Ikeda believes in preserving the traditional shape and sewing of kimonos, while also incorporating modern colours and patterns. They have even developed kimonos that can be fastened with a belt instead of the traditional obi, making it more accessible for daily wear. But tradition is key. "It is not difficult to make kimonos that are similar to western clothes, but we believe that this would lose the original charm of kimonos and Japanese sewing techniques. That is why we value the traditional shape and sewing of kimonos and haori."
Thai garments are known for their unique textiles and intricate designs that have been passed down through generations. Jim Thompson is a brand that has made its name by incorporating traditional Thai textiles into its designs. According to Sasaya Vesanen, the chief commercial officer for home furnishings at Jim Thompson, they strive to bring innovation beyond Thai silks, practice the art of hand-weaving and the laborious 'mudmee' (Thai-ikat) to preserve a local art form that is part of their brand DNA.
Be Inthavong, the artistic director of fashion at Jim Thompson, explains that what sets them apart from others is their brand DNA, which is from Thailand, with an ethos of the "Thainess twist." This twist is evident in their iconic Fisherman's pants that are traditionally Thai but interpreted in a modern way.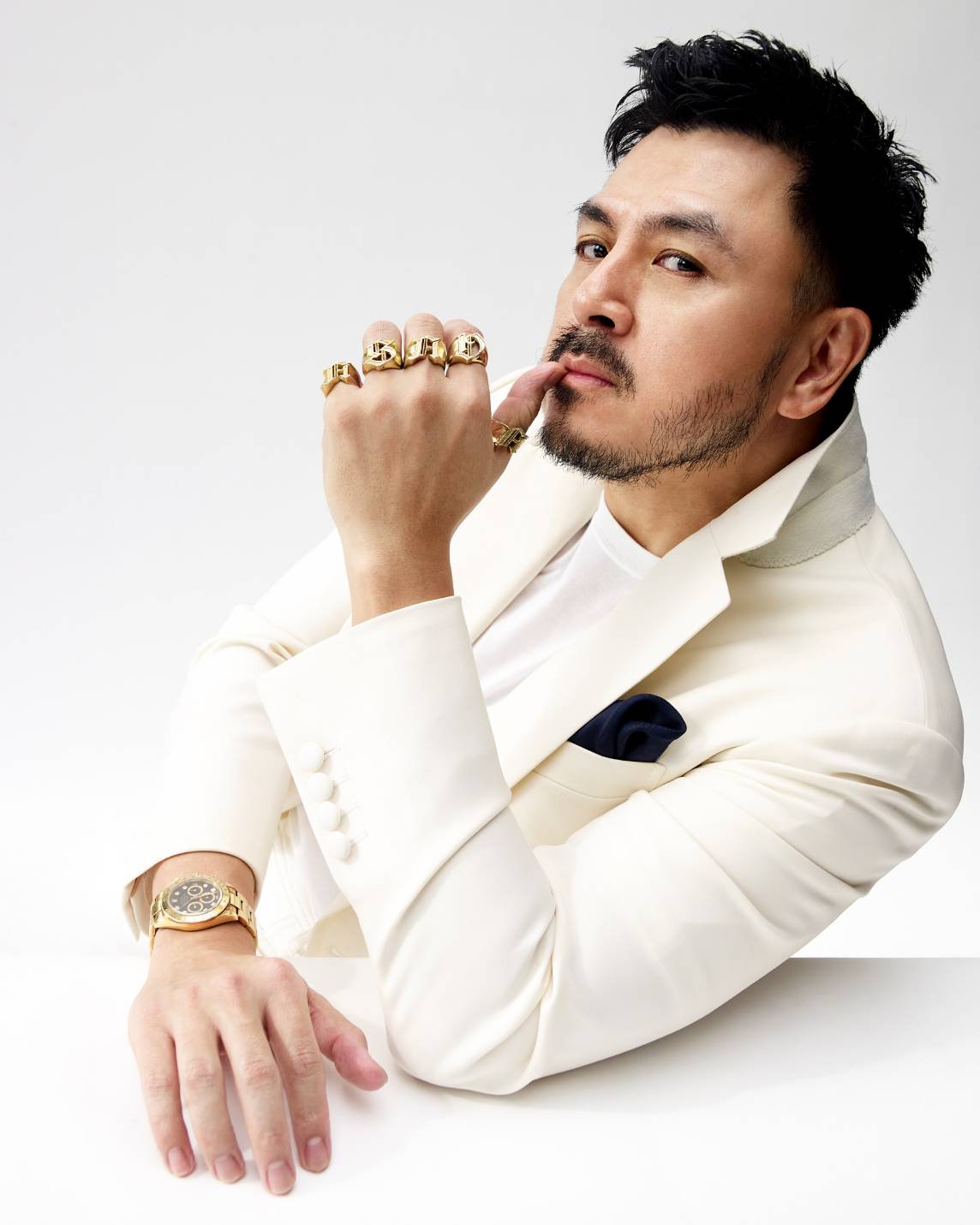 The Asava Group, founded by Polpat Asavaprapha, incorporates traditional Thai garments into their designs. " I think it's very challenging to elevate your own culture into the modern luxury premium industry, and to be able to create added value for your own culture, you have to sell this particular concept locally first in order for the global market to follow," he notes.
Maryl Facura, co-founder of Fakura Clothing, suggests that brands can authentically incorporate traditional Asian garments into their marketing strategies by collaborating with local designers and artisans in Asia, promoting inclusivity and diversity when using models to express their products, and being sensitive enough to avoid cultural appropriation.
Kyunghee Pyun, an associate professor of history of art, explains that cultural identity is tied to ethnic identity in pre-modern Asian countries, and different ethnic groups had their own distinctive style in garments, accessories, and embellishments. She also notes that contemporary Asian designers are utilising their cultural background to create new, refreshing portfolios, and the Hanfu movement in Mainland China and New Hanbok Movement in South Korea are drawing a number of followers who wear modernised traditional robes as school uniforms, workwear, and office look. "At Parsons, Fashion Institute of Technology, RISD, I see students/graduates proactively apply their cultural identity to their design."