The event of the year was set to celebrate the release of the 'H! LIST 2023' magazine and honour celebrities who are devoted to serving society.
HELLO! Magazine Thailand recently hosted its annual charity dinner, titled "H! LIST 2023: 'The Glamor of Nature' Charity Dinner," in celebration of the special edition release of the magazine 'H! LIST 2023,' featuring the names of over 600 prominent figures in social circles. The dinner also featured the presentation of the HELLO! Sustainability Awards and art auctions aimed at raising funds for The Mae Fah Luang Foundation under Royal Patronage.
During the event that took place in the Magnolia Ballroom at the Waldorf Astoria Bangkok on the evening of October 27, Björn Rettig, Chief Executive Officer of BurdaLuxury Asia and India, Kessuda Marawichai, Editor-in-Chief of HELLO! Magazine Thailand, and Ploydee Chantarasomboon, the magazine's Social Director, extended a warm welcome to the esteemed guests.
Kessuda Marawichai, Editor-in-Chief of HELLO! Magazine Thailand, said: "HELLO! Magazine is dedicated to featuring prominent individuals within the social sphere. As a result, we gather information about a wide range of people, creating a 'People Community' under one platform. This is the essence of H! LIST, which is now celebrating its 5th year."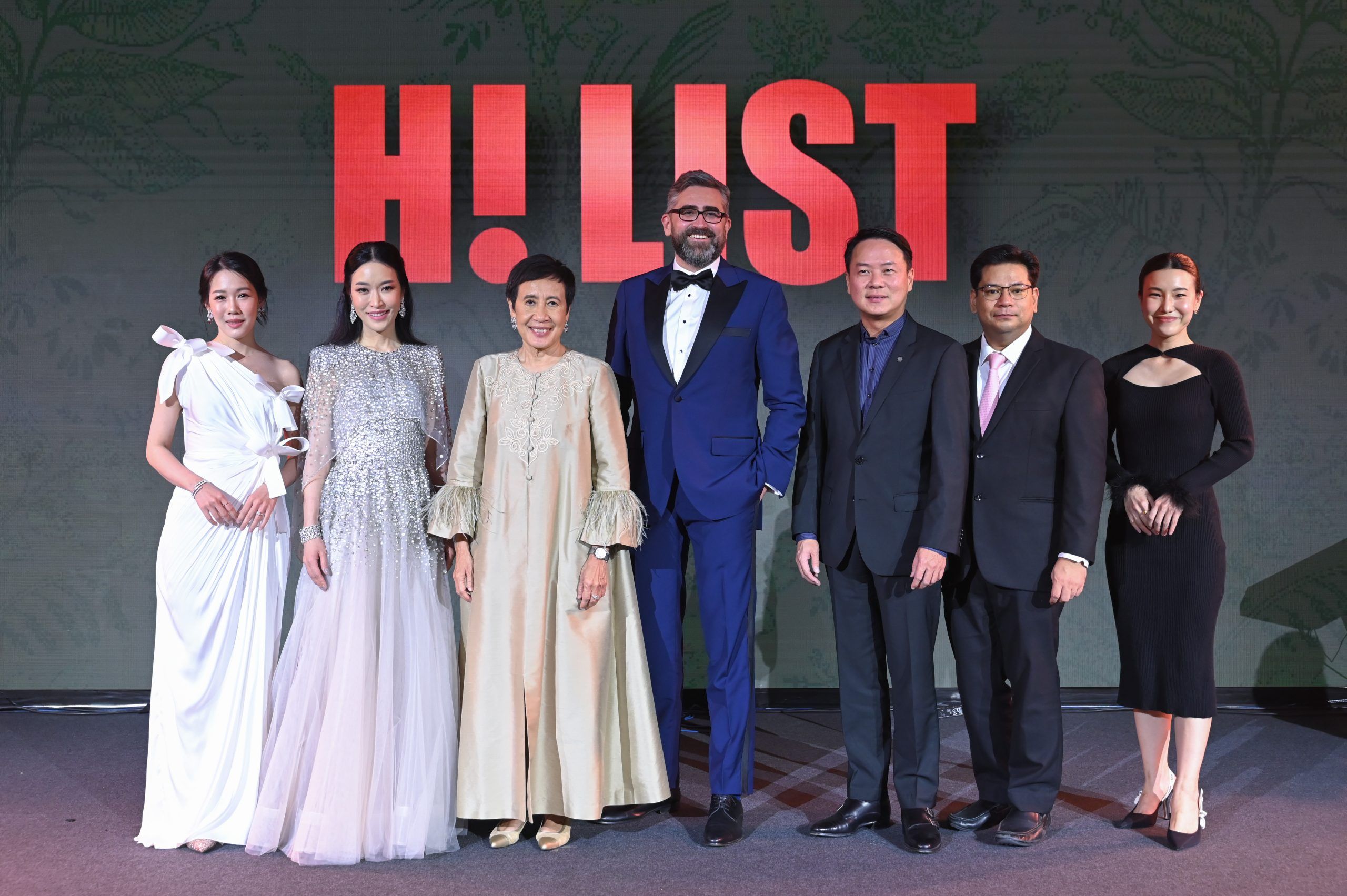 She continued, "Furthermore, over the years, HELLO! Magazine has remained committed to sustainability, emphasising that regardless of the industry or business sector one belongs to, it is vital to prioritise, support, dedicate efforts, and generate lasting, sustainable benefits for society in every domain, including the luxury industry. As a result, we organized an event with the theme 'The Glamor of Nature' and presented the HELLO! Sustainability Awards to individuals who have wholeheartedly committed themselves to fostering, advocating, and extending benefits to the public through sustainable practices. The recipients of this award are individuals who serve as inspirational figures, continuously sharing goodwill and contributing to society."
The HELLO! Sustainability Awards is a prestigious recognition given to individuals who have demonstrated their dedication to society by consistently delivering benefits to the public within the three key sustainability frameworks: the environment, society, and the economy.
The recipients of this award include esteemed individuals such as Buntoeng Vongkusolkit, Chairman of Mitr Phol Group, Thiraphong Chansiri, President and Chief Executive Officer Thai Union Group Public Company Limited, Wallapa Traisorat, Chief Executive Officer and President of Asset World Corp Public Company Limited, Piti Bhirombhakdi, Senior Executive Vice President at Boon Rawd Brewery Company Limited and Chairman of the Board at Boon Rawd Supply Chain Company Limited, Dr. Usanee Mahagitsiri Leoneo, President of KFU Company Limited, and Pimpan Diskul Na Ayudhya, Vice President of Sustainability Education at The Stock Exchange of Thailand.
Additionally, the other recipients of this award comprise Pipatchara Kaeojinda, co-founder and creative director of the brand 'PIPATCHARA', Pipat Apiruktanakorn, the founder of KidKid Company Limited, Phanuphon Bulsuwan, also known as Chef Black and the founder of Blackitch Artisan Kitchen, Thanyarat Jirathitikeat, Chief Executive Officer of C Drink Company Limited, and Amata Chittasenee, better known as Pearypie, a well-known figure within Thai society.
The highlight of this special evening was the auction of these four remarkable works of art, each created by artists who poured their heart and soul into their craft. These masterpieces included "Metamorphosis A Tale in Textile" (2019) by Ploenchan Vinyaratn, a piece crafted from fabric scraps, various fibers, and yarns, showcasing her dedication as an artist of over two decades. "Cocoon Earth" by Somnuek Klangnok, also known as Kru Parn, demonstrated the use of acrylics on canvas as a unique artistic technique. The third work, "MookmooK" by Teerapoj Teeropas, was a creative transformation of the iconic "Peacock chair," affectionately known as the "Beauty Queen Chair," using environmentally friendly materials like recycled plastic and coffee chaff. Lastly, the "Infinitude Lyra Fringe" bag, featured in the latest PIPATCHARA brand's runway collection, was designed by Pipatchara Kaeojinda, using recycled plastic bottle caps and clear plastic cutlery.
After contributing to the Mae Fah Luang Foundation and indulging in our curated selection of food and beverages, guests were treated to a performance by talented celebrity artists. The evening featured Finnegan Sukosol serenading the audience with "Fly Me to The Moon," followed by a delightful duet by Finnegan Sukosol and Jay Veerayano with "What a Wonderful World". Ardhawadee Jiramaneekul also graced the stage with a rendition of "Reason." The night concluded with a lively party, featuring the artist beloved by young women, Popetorn Soonthornyanakij.
This event received strong support from valued partners, including Lamborghini Bangkok by Renazzo Motor, Skinology No.5, UOB Privilege Banking, Smeg Thailand, and C2 drinking water.
It was an extraordinary evening, with distinguished guests coming together to actively participate in supporting, dedicating themselves, and contributing to the creation of sustainable benefits for society.